June 2000 trip
Taking a break from our house building we traveled to Scotia, NY to visit Soahn and Wendy for a few days. One day was spent at their friend Nancy Frost's house.
Soahn's dog Ringo loves to fetch toys tossed into the water. Hazel is learning to enjoy water fetching too.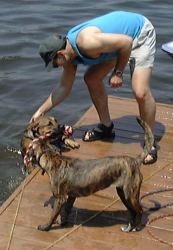 We were lucky enough to have wonderful weather while visiting with Nancy Frost on Ballston Lake. Her house is the perfect place to spend a summer day. Wendy's parents, Roger and Judy brought their new boat and gave us all rides. For dinner we were treated to a delicious barbecue.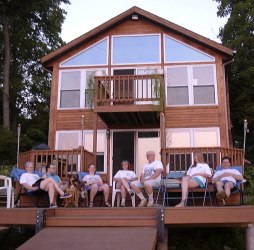 After visiting with Soahn and Wendy we went to visit Kai, Denise and Brett in NJ. Kai enjoyed the shovel we took to him even though we had to put it to use when we dug the waterline for the house, it was just the right size for Nancy to do some of the hand digging . Kai liked catching small grasshoppers in his new net. Brett has a big back yard just perfect for little boys to go exploring. While visiting there we went to a local reservoir and had a nice walk through the woods.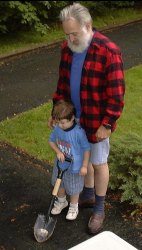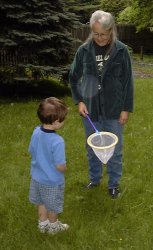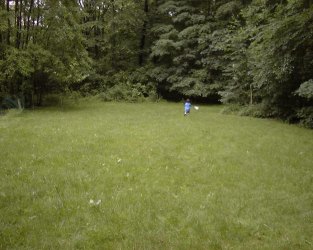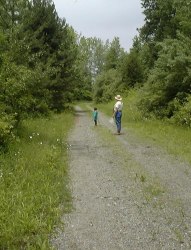 Kai had great fun stalking the geese. However, he wanted to hold Denise's hand when he was closer to the geese. Would you believe this place is just a half hour from New York City?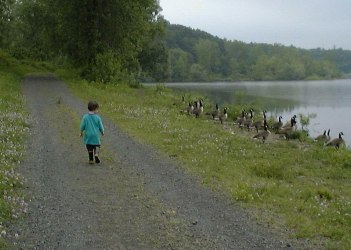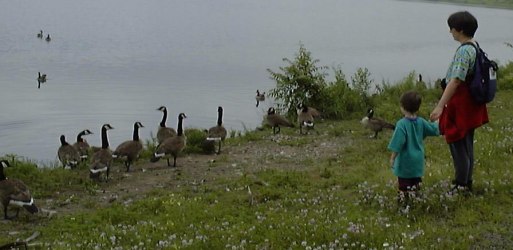 We went to the last storytime in the spring session, they had a picnic with ice cream for dessert. Later on Kai read a book to Grandma Nancy.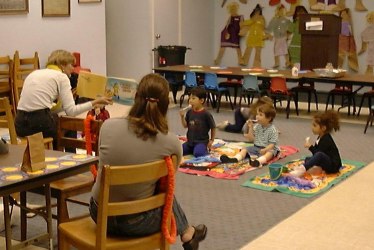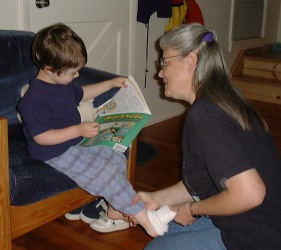 Go to our Science Fun page
Go to our Travels page
Go to our Personal home page
Go to our Community page


E-mail Nancy and Alan