March 2000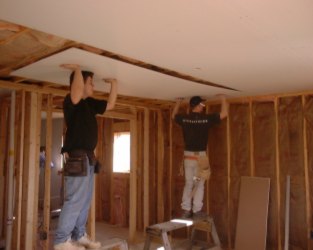 Sheetrock was hung with the greatest of care by a crew of four who work for Piper Drywall in Olive Hill. It took them two days to do most of that job. We didn't hear any complaints about walls not being square so guess we did a pretty good job building them. Yes, we could have done this job but not in two days! In 3 weeks the seams were all taped and sanded and ready to paint.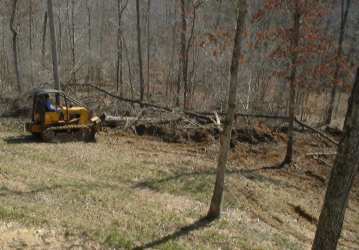 Jimmy Barker and his dozer really made our front yard look bigger by moving the pile of trees and stumps left from clearing the house site. Now all we have to do is cut up the wood for our fireplace and drag away the stumps. This area will be planted with wildflowers. Closer to the house will be vegetable and flower gardens. We are not going to spend much time cutting grass as most of the yard will be naturalized. Country life is grand.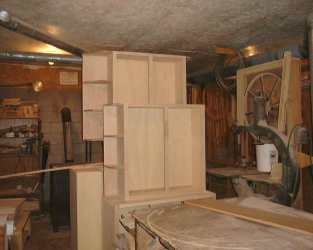 This is the Reber Woodworking Shop where our cabinets were made. The cabinets seen here are for the sides of the kitchen window. The bandsaw in the background is from around 1903 and works better than the new one in the shop. The Reber family does excellent work and we are very happy with the end results.

Our kitchen just waiting for the cabinets to arrive. It sure seems strange to have real walls now. To the left is the hall that leads to the main bathroom and the laundry. The door on the right is our guest bedroom. The gas line coming up through the floor is where the stove will be. The refrigerator will be to the left of that. The sink will be under the window.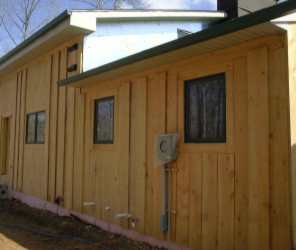 Some of the hemlock siding is in place on the north side of the house. The driveway goes past here to a turn around area. You can see the laundry, bathroom , and kitchen windows and the back door at the far left. To the right is a walkway that goes between the house and the garage and continues to the front porch.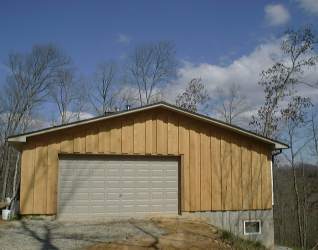 Having the siding on the end of the garage makes the place look finished as you come up the driveway. Now we will be happy when the rest of the house and garage looks like this, finished. The soffits, fascias and gutters were done by Gutterworks in Ashland. The crew that did our job were true craftsmen and their careful work is appreciated.

Go to our Science Fun page
Go to our Travels page
Go to our Personal home page
Go to our Community page


E-mail Nancy and Alan