Saint Petersburg



We took an overnight train 650 Km. from Moscow to Saint Petersburg arriving at about 8:00 in the morning. We were traveling with 3 other couples from the US Embassy in Moscow. Our guide and driver met us at the station and we took a driving tour of the city to start to get oriented and then checked in at our hotel, the Arbat Nord.

The next day we visited Peter the Great's summer palace, Peterhof, outside the city. Throughout the grounds are 176 fountains, four cascades, majestic palaces, and numerous gilded statues of ancient gods and heroes. The palace was decimated during World War II but has been restored in recent years. Everywhere you look there is gold.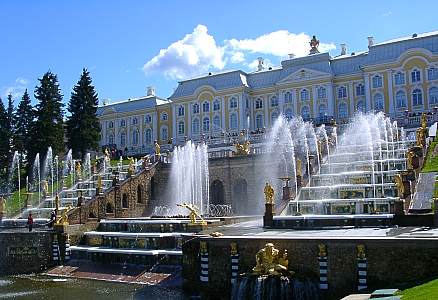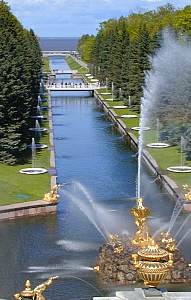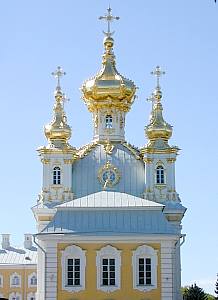 And here is the original Hermitage. It didn't have any stairs to the second floor so when Peter the Great wanted to be alone that is where he would go. He kept his favorite paintings and sculpture there. His servants would hoist him up in a special chair and bring him meals. Later there were other hermitages were built including his famous museum in St. Petersburg and many others around the world including one in Las Vegas and Andrew Jackson's home in Tennessee.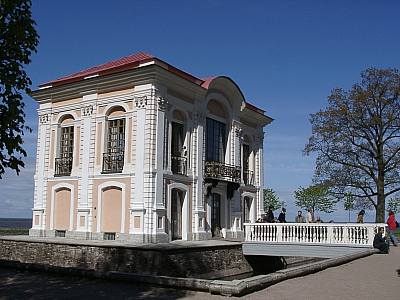 All the museums and palaces that we saw had remarkable displays. If it isn't gold it's other minerals. Here are vases of malachite, lapis lazuli, jasper, columns of malachite and lapis and an array of other minerals carefully formed into an inlayed tabletop.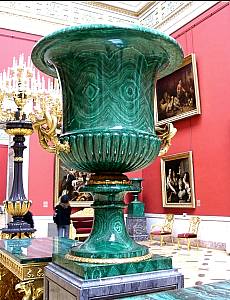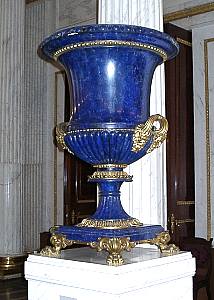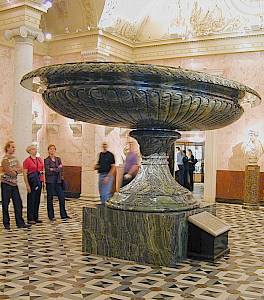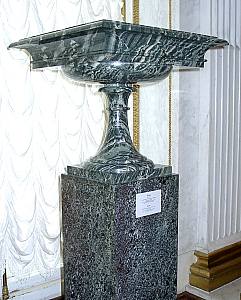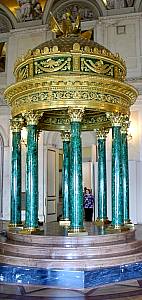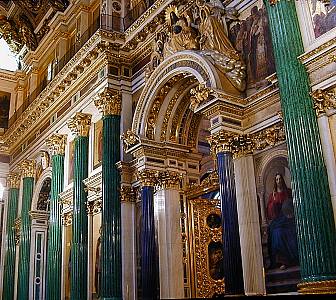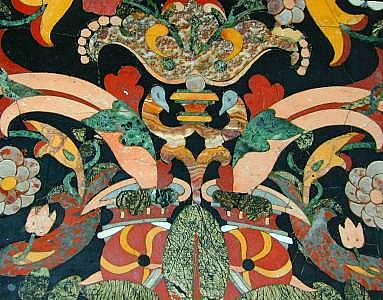 Ken, Denise and Nancy had to try these 300 year old chairs that were on display. Yes, it was OK. There were women watching in every room to be sure that we didn't touch or even photograph anything we weren't allowed to.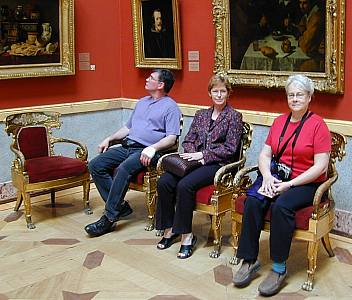 One of the ballrooms in Catherine's palace, another of the places we visited.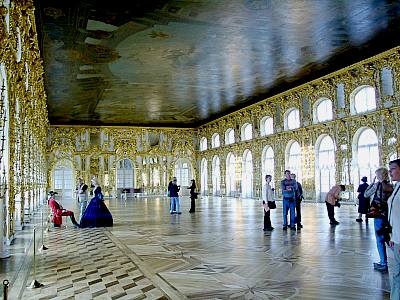 Catherine the Great happened to notice a tourist smoking outside the Summer Palace. She didn't look pleased.
Three more tables. The first decorated with cross-stitch, the second made of malachite, and the last inlayed with many different semiprecious stones.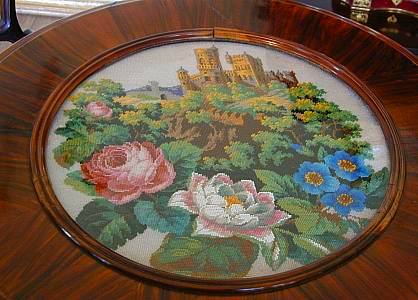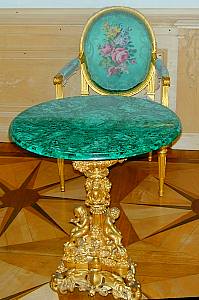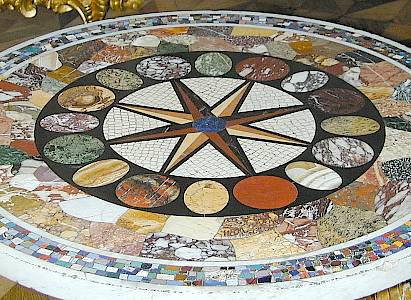 One of many ornate chandeliers.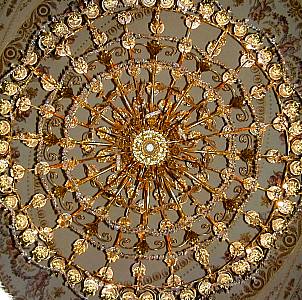 Elaborate parquet floors were everywhere. They were made with exotic woods with natural colors ranging from cream, white, black, and yellow to blue and purple.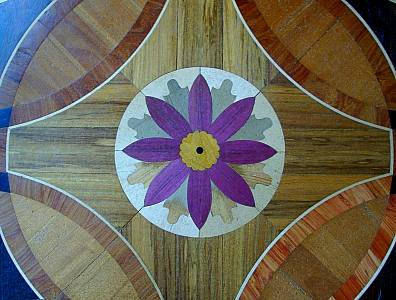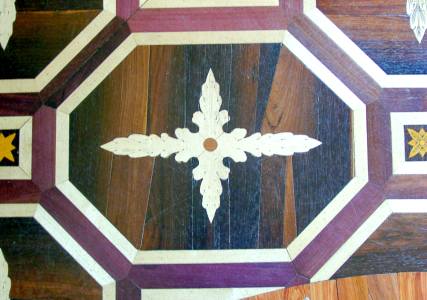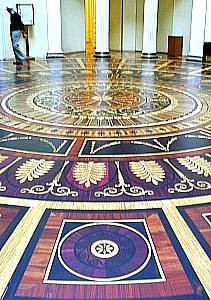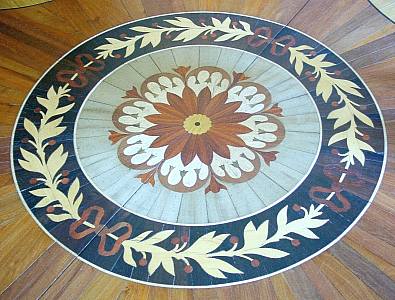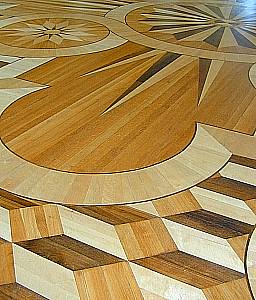 How did they keep them so clean and polished? Every visitor had to wear felt soled slippers like these.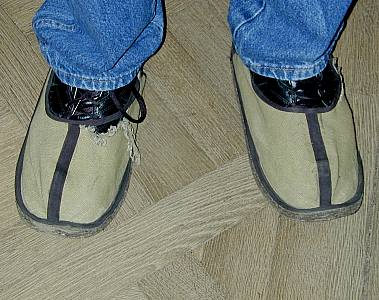 We visited several churches including this one famous for the bakery that the priests ran. The bread was delicious.
We visited Saint Nicholas church on his feast day. As you might expect, celebrants filled it waiting for the patriarch for the region.
We were just leaving as he arrived. Dale got this picture as he (the
patriarch
not Dale) was escorted inside.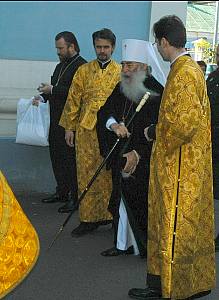 The Ethnography Museum is new. It displays some artifacts and clothing of the 150 peoples of Russia. Because it extends from the Pacific ocean to the Baltic sea and from the Arctic to the countries of southern Asia there is a lot of cultural diversity represented.
Elaborate embroidery, a fish skin rain jacket, a saddle for a horse or maybe a camel, vessels for fermenting milk and grape juice were a few of the displays. The sleigh would have been pulled by three horses. The music of many of the groups was represented as well, with a display showing how bells were crafted and an instrument that I had never seen before; a 3 stringed, hand cranked, keyed violin.
The young ladies were visiting the museum as well and took the opportunity to practice their English (their pronunciation was excellent). I demonstrated some magic tricks that they seemed to appreciate.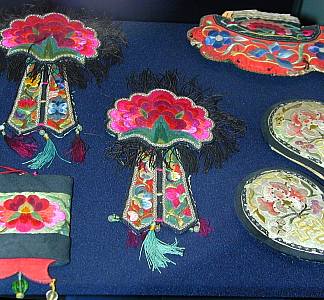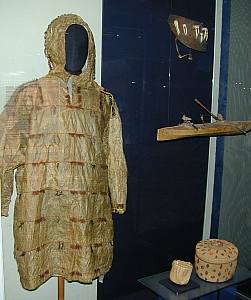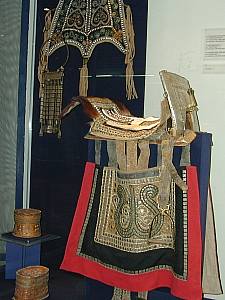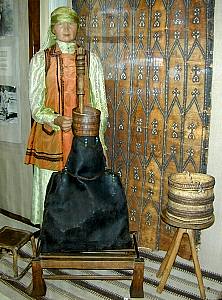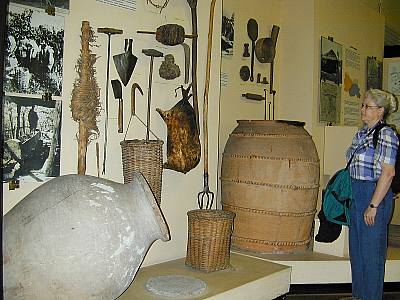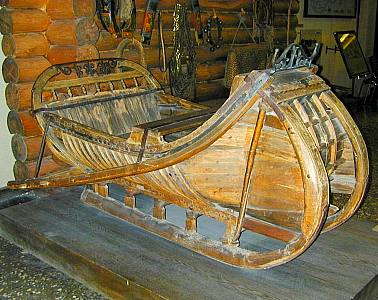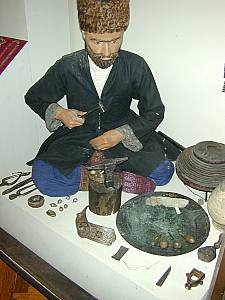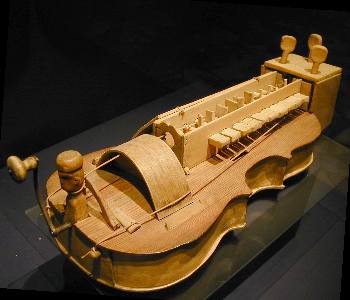 The Idiot.
No, not one of our group.
It was the name of the restaurant where we had lunch one day. It was reportedly one of the haunts of Fyodor Dostoevsky who lived and wrote near here and the restaurant takes its name from what is considered to be one of his greatest works.
The Peter and Paul Fortress was built on an island at the mouth of the Neva river to defend the area from an attack by Swedish forces. It is now a museum. A musician was playing some classic russian songs and of course we bought one of the CDs he had for sale.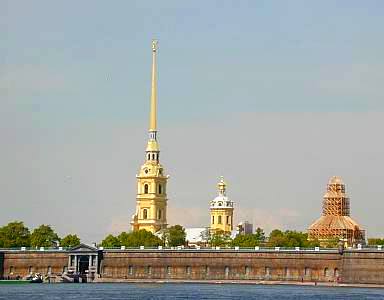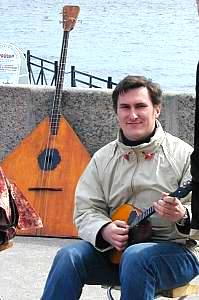 Each of the bridges in St. Petersburg is decorated in its own unique way. This Egyptian figure is an example. It certainly makes it easy to recognize whether or not you have come this way before.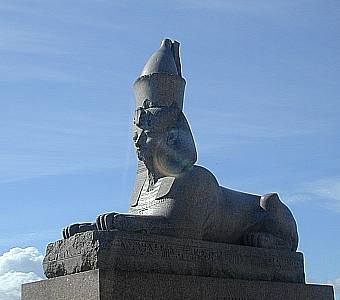 St. Isaac's Cathedral has solid granite columns and a magnificent gilded dome more than 100 meters high. Looking straight up at the dome you can see a silver bronze dove with a wingspan of 6 meters. The columns and walls of the cathedral show damage from shelling during World War II. A circular staircase takes you to the upper colonnade where you can look out across the city.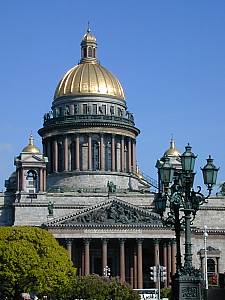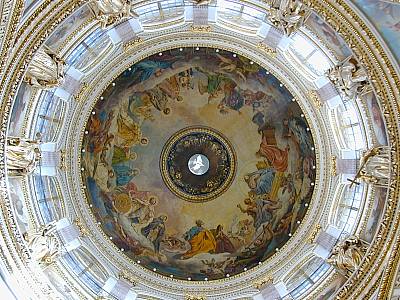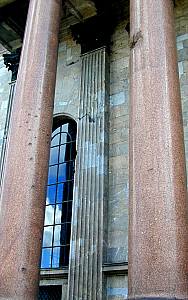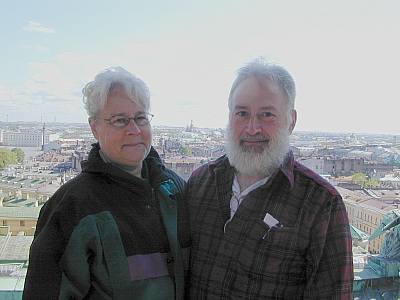 We saw the Church of the Spilled Blood. It was b

uilt on the spot where Tsar Alexander II was murdered. A more official name is

Church of the Resurrection of Jesus Christ.

During the Communist era when many of the tsarist churches were looted or destroyed this one was much less damaged because it honored the "good tsar" who had freed the surfs, very much in line with Communist ideals. However they didn't maintain it as a church. It was used as a warehouse for vegetables which gives it another nickname, "The Potato Church".
We picked up some souvenirs at a kiosk across the street.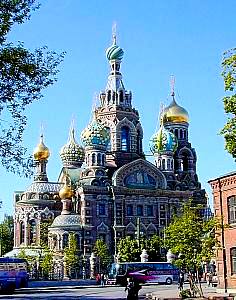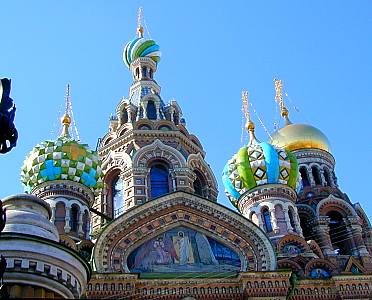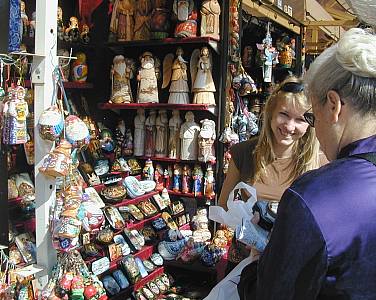 We saw this unmistakable warning sign as we walked along a street that ended with a sharp turn at one of the many canals that this Russian Venice is famous for.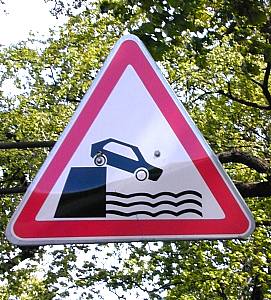 You can't go to Russia without going to the ballet. We were fortunate to see a presentation of Swan Lake. The gold decorations in the theater were impressive as were the carvings in this room.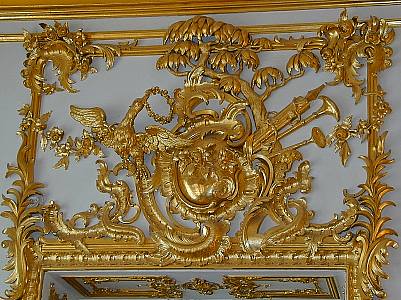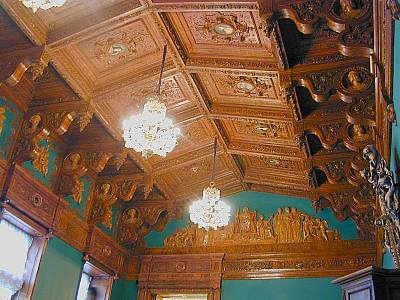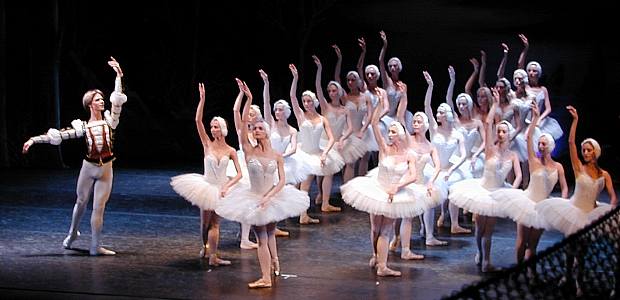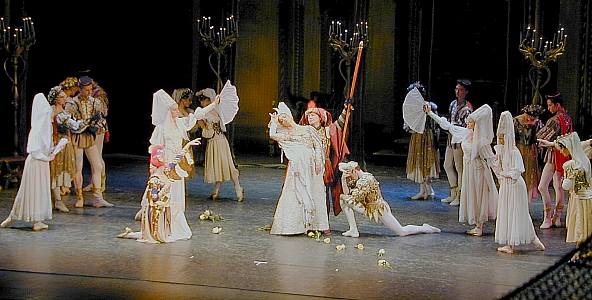 As we left the theater at about 11:30 PM we got a little taste of the "white nights" that Saint Petersburg is famous for. We were nearly a month early to see the full effect but it really brought home just how far north we were.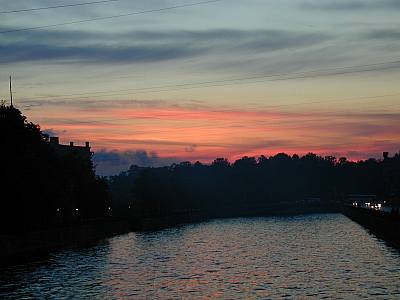 Here are some dachas that we saw from the train as we traveled back to Moscow. Often they are a small cabin without running water but they are a place to vacation and to grow flowers or vegetables.
I have seen the statistic that nearly 30% of Russian families have dachas.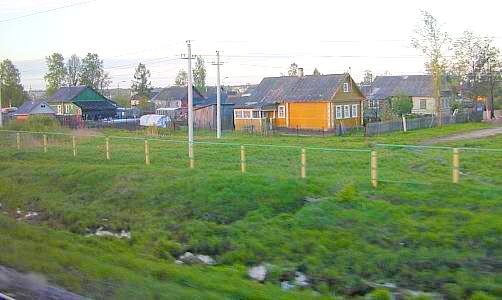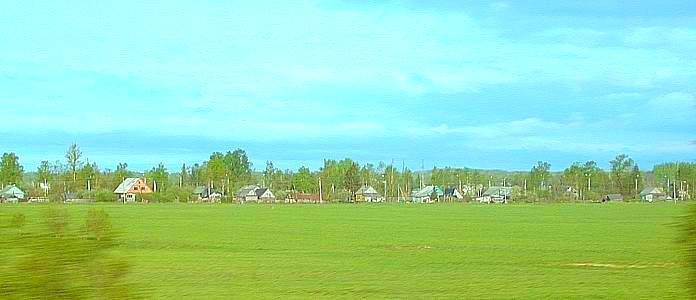 More of our trip to Russia Mendeleev's laboratory, and Moscow

See other places we have visited
here
.
Go to our Personal home page
Go to our Community page
Go to our Science Fun page

E-mail Nancy and Alan