Modern Greece

Most architecture here looks classical.
This mural

and

statue of Athena

decorate the Academy built less than 150 years ago making it modern by Greek standards.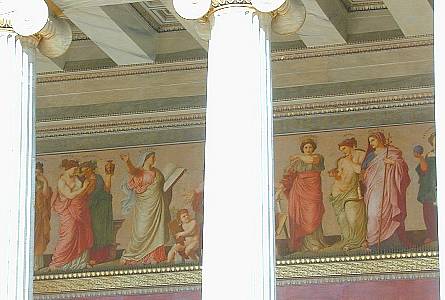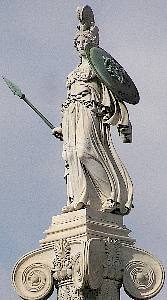 The Greek food and drink we had were outstanding. The owner of this restaurant was showing several of us examples of what we could have for lunch. Pick anything offered, add a small pitcher of wine and you won't be disappointed.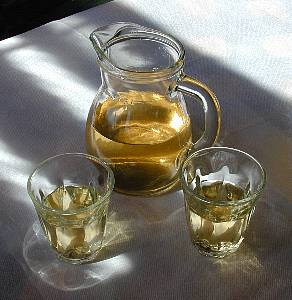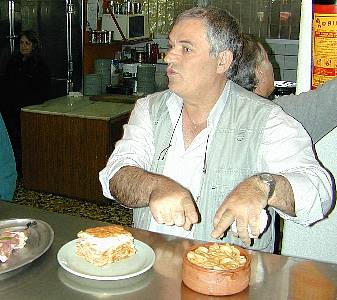 When we got away from the cities and off the superhighways we often saw sheep in the fields. Even with no fences these were staying out of the vineyard and off the road. We would occasionally see shepherds but we didn't see one near this flock.
Along both minor and even some major roads you would see these little structures. People build them where there was an accident. Sometimes to honor someone who lost their life or to give thanks that no one did.
This "Smart Car" seems to be a popular urban car. It is tiny, about 4 feet wide and 8 feet long. With high gas prices, narrow streets and limited parking it fits right in.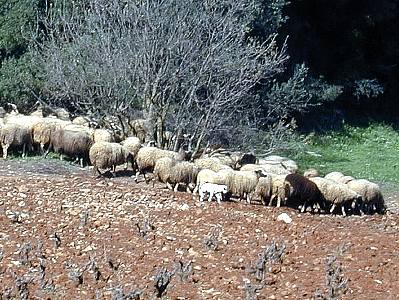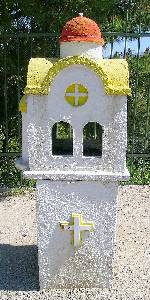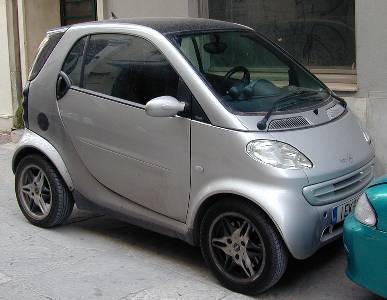 This fellow was wandering through a park in downtown Athens. He wasn't an exhibit, just looking for a shady spot with tender green grass.
This archeological display of a Roman style bath was along a major road in downtown Athens. It was discovered when an air shaft for the subway was being built prior to the Olympics. Since then it has been carefully excavated and a roof built to protect it from the elements. The columns held a raised floor that allowed heat from fires to pass underneath and up through channels in the walls. Signs in English, Greek and other languages explained the various rooms. The tepidarium would have been pleasantly warm and the caldarium would have been quite hot.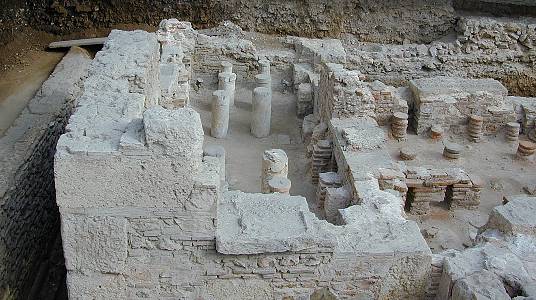 This small chapel was along a back road north of Athens. It is quit a bit smaller than you would guess. The door was only about 4 feet high.
A visitor to this page explained why the small door.
He said
The reason that the entrance door are very low in the Greek and Russian orthodox churches build in the Middle Ages, it was that the believers as they were entering the churches had to "
Compulsory kneeling
for respect to the sacred place of God".
My thanks to you Xenophon.
I was surprised to see this gentleman get out of the pickup truck. I don't know for sure but he is probably a Greek Orthodox priest.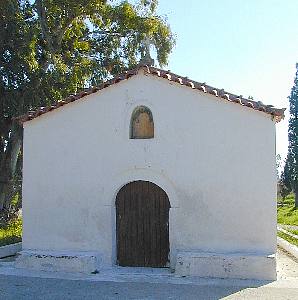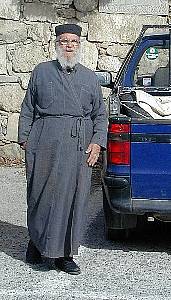 Shopping is another common activity and not just for the foreign tourists. You could find nearly anything you could think of in one of the small shops. This display shows just a few of the hundreds of kinds and colors of glass beads that one had for sale. Rugs like these were another common item.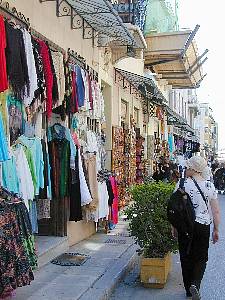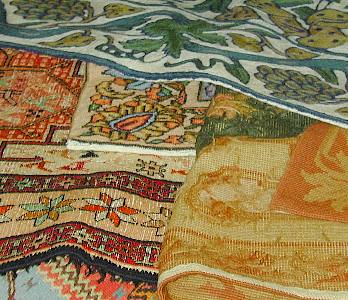 We would often see men with strands of these amber, metal, glass, or semiprecious stone beads working them through their fingers. While often called "worry beads" we were told that a better translation would be thinking or contemplation beads.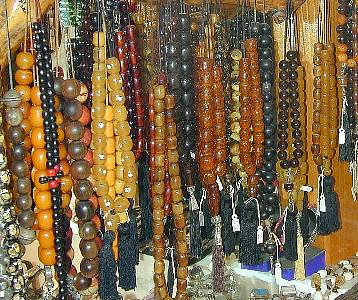 These Evzones
,
honor guards for the Greek unknown soldier, wear their traditional garb. The first two have on winter uniforms and the other one we saw when we returned to Athens later is dressed for summer.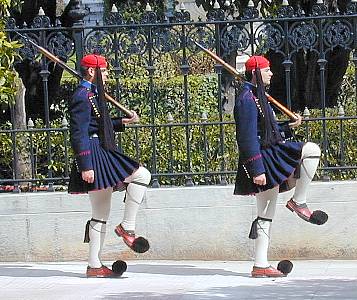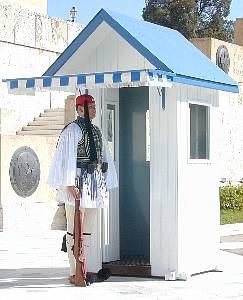 We had a very pleasant and nearly private ferry ride to the island of Evias.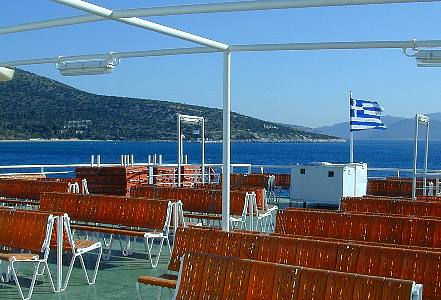 Olive trees are everywhere. They are all severely pruned so only the trunk gets very large. The the first one is nearly two feet
in diameter
and the second is more than 3. We learned that in some cases these trees will survive for more than 400 years.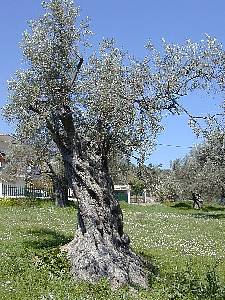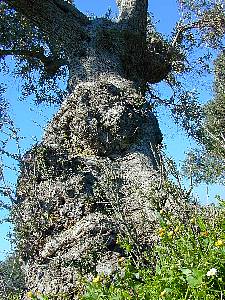 These kids were playing football (soccer) and just hanging out.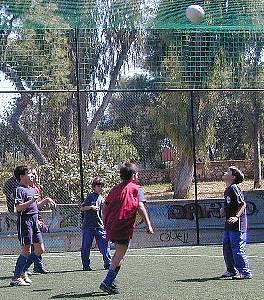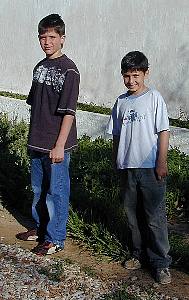 This cable stayed bridge connects Rion and Antirion across the gulf of Corinth. It was an engineering challenge if there ever was one. More than 1.5 miles long with challenges to be considered including a deep soft sea bottom, high winds, and ship traffic. Tectonic activity makes the separation between its ends increase by more than 1 inch per year. That doesn't sound like much until you realize what that means in terms of the potential tsunamis and earthquakes.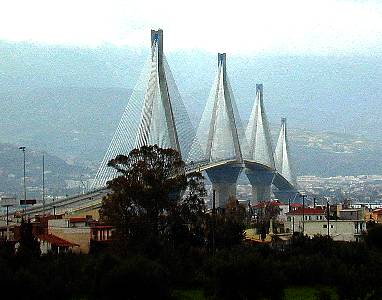 The Corinth canal is 80 feet wide with rock walls up to 260 feet high.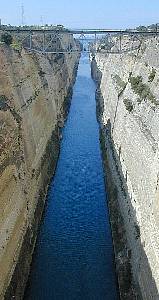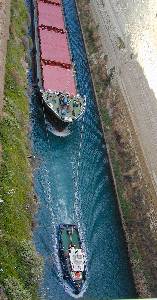 The bridge over the canal provides an excellent spot for this sport. There were folks lined up that seemed anxious to try it.
Our bus tour had to move on so we had to miss the experience --- Darn it!!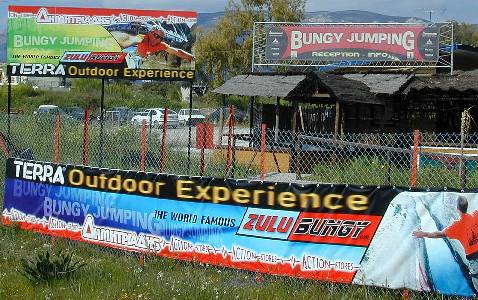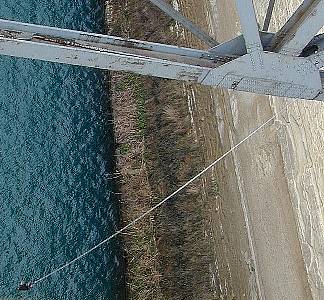 We saw this tapestry in the Athens Folk Art Museum that was an easy walk from our hotel. Articles like this are still being made in some areas.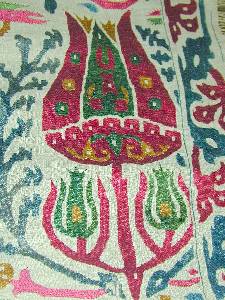 We were in a small town for their independence day celebration. There was a parade through town with the kids from each class of each school dressed in traditional clothing. This was followed by speeches by the town's dignitaries and then music and dancing.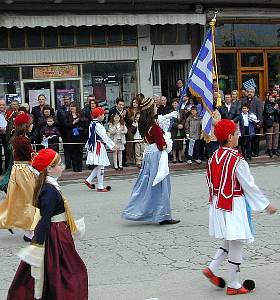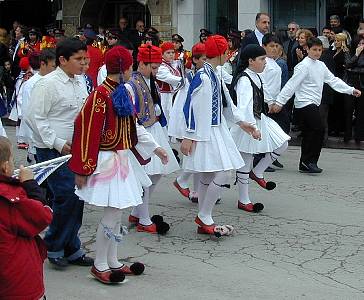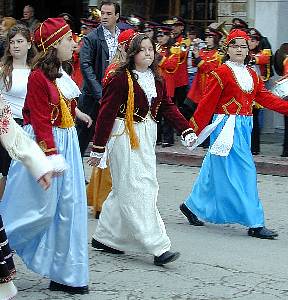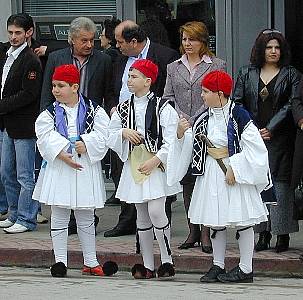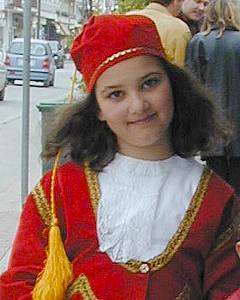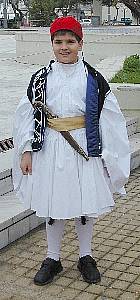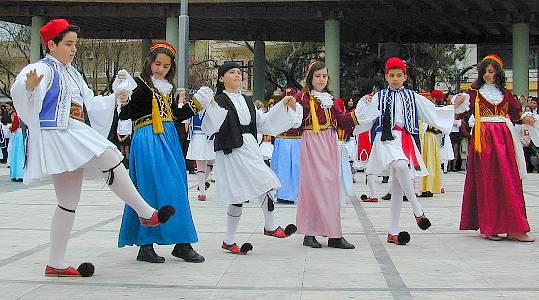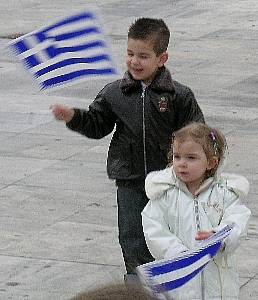 A couple of pictures of folks on our tour, I had challenged these kids with a rope puzzle. She was more than a little frustrated when she thought she had the solution only to discover that it didn't work out the way she thought it would. The fellow looking on is a music teacher from Hungary now living in New Jersey. The last picture is our whole tour group. Two of the folks, front row 7 and 8 from the left, have particularly big smiles. That evening they were to get their luggage. It had been lost as they left the US 5 days before.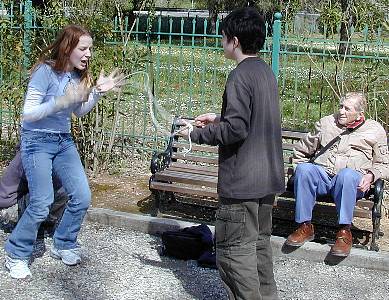 Some more pictures from our Greece and Turkey trip.
Click on these links for Modern Greece, Ancient Greece, the Greek Islands, our Greek Eclipse, Greek Eclipse Attire, Greek Flowers, and Turkey.

See other places we have visited here.


Go to our Personal home page
Go to our Community page
Go to our Science Fun page


E-mail Nancy and Alan