Across the Gobi.
It's hard to believe that anything can eke out an existence out here.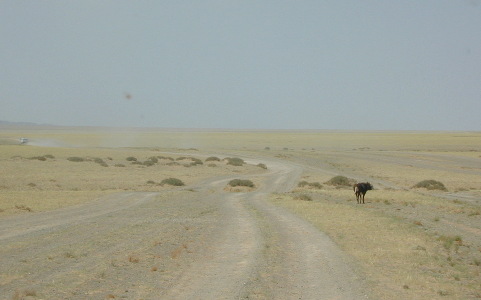 First stop was the Flaming Cliffs.
We arrived in the evening and got our first look.
The color really changes depending on the time of day.
The next morning most of our group went back to see them in the early morning light, do some exploring, and look for fossils.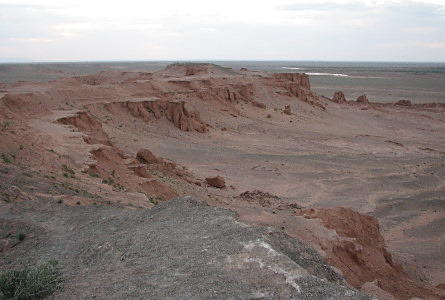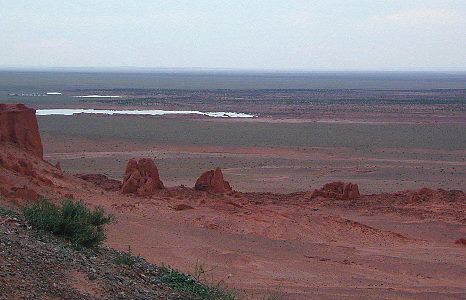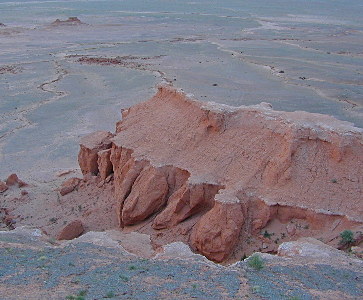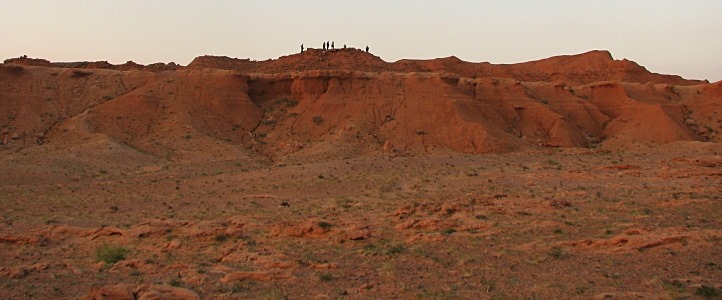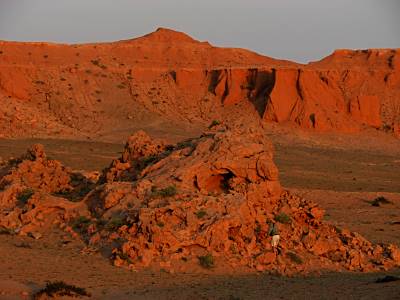 And they found some.
The second picture probably requires some explanation.
If you find something that may be a fossil but may be just another stone there is a common test.
It seems that only a fossil bone fragment will stick to your tongue.
These three are demonstrating that they were successful in their search.
My collection of pebbles that I picked up around Mongolia attracted the interest of inspectors at the airport when we were leaving.
We were called down to the bowels of the airport terminal to stand by while the pebbles were subjected to the security agent's calibrated tongue.
I can't imagine having that job for even one day but it does demonstrate that Mongolia is serious about keeping all of their fossils in their country.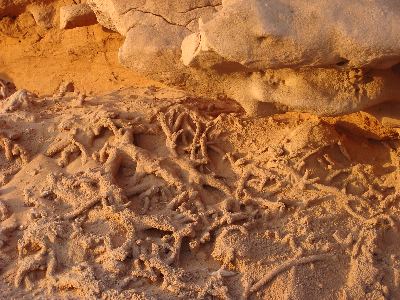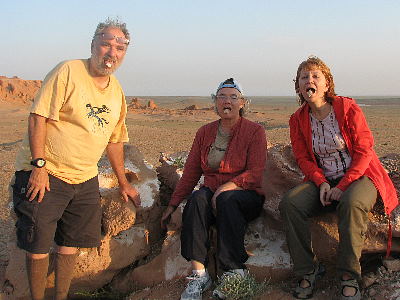 There was the opportunity to learn how to milk a goat and meet some local kids.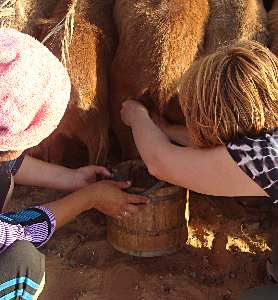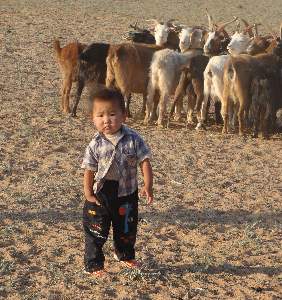 What would a trip to the Gobi be without getting to know a camel, or several.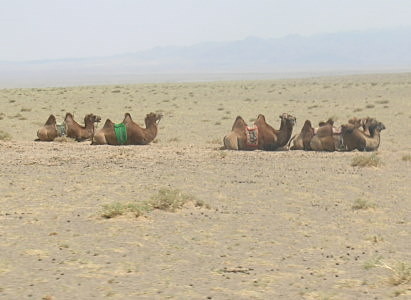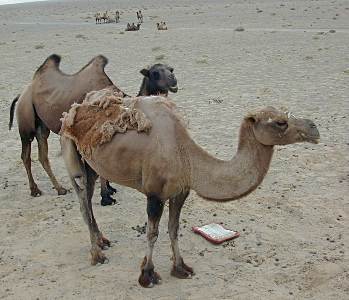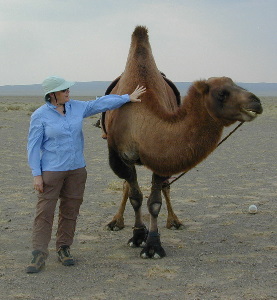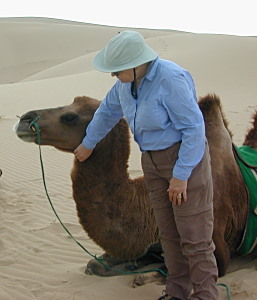 We set out across the wasteland toward ...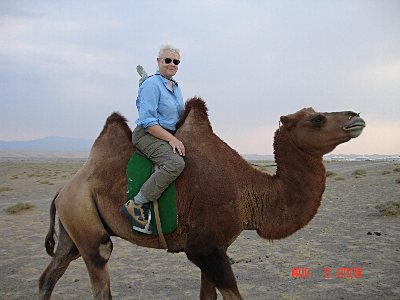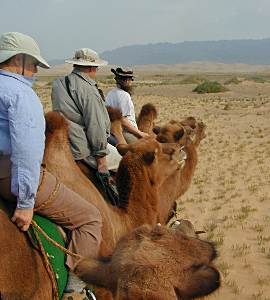 What we were told were the longest and tallest sand dunes in the world.
Specifically 100 Km (60 miles) long, with some dunes measuring 300 m (nearly 1000 ft.) tall.

Our caravan.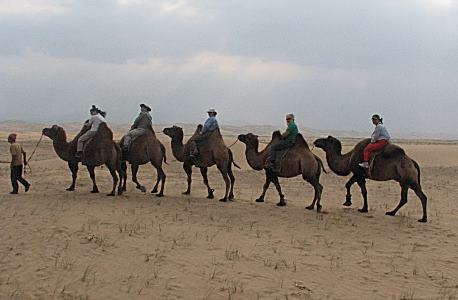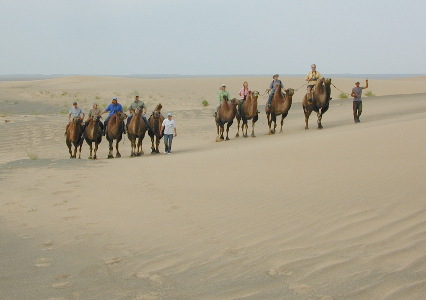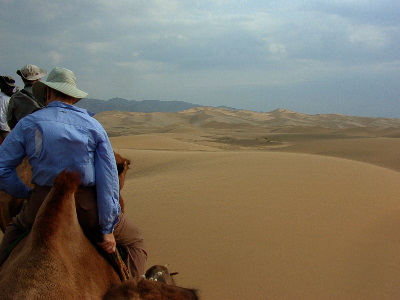 This is as far as the camels took us.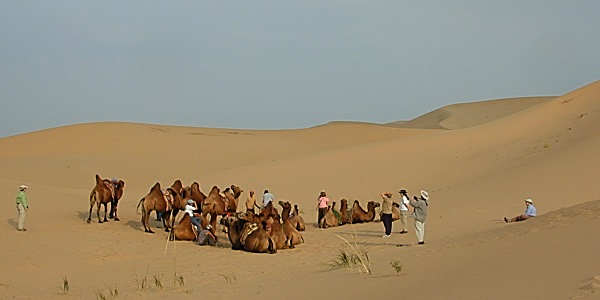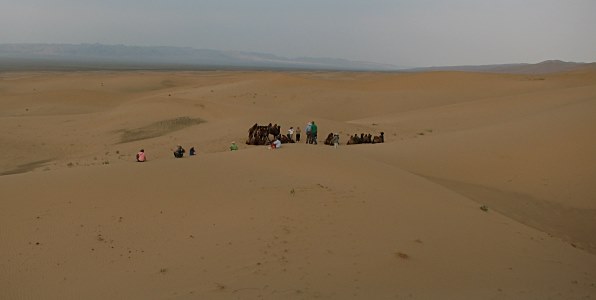 To go any further it had to be on foot.
These pictures may give you some idea of the scale of these dunes.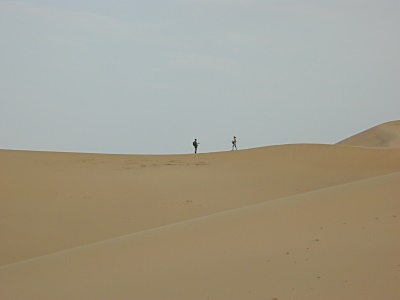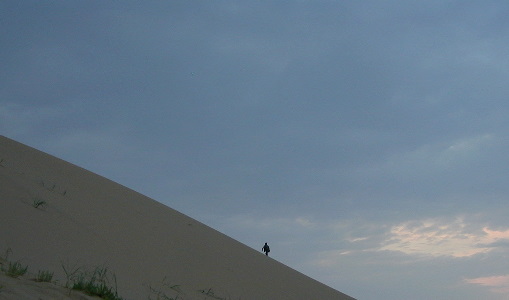 One of our guide books suggested sledding down the dune on a plastic bag.
It didn't work for us.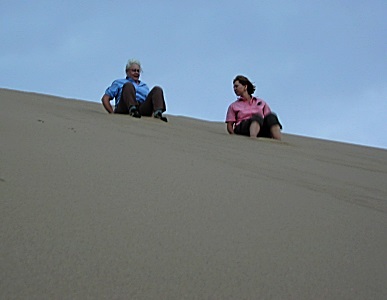 On the way back.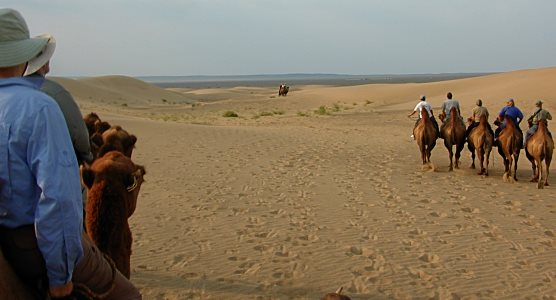 This guy was waiting for us when we got back.
He was about a foot long.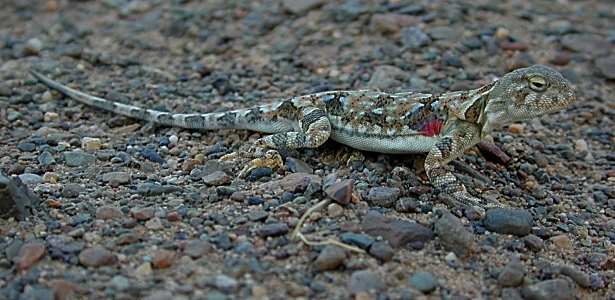 It was unbelievable when we happened on these camels wandering across the desert at sunset.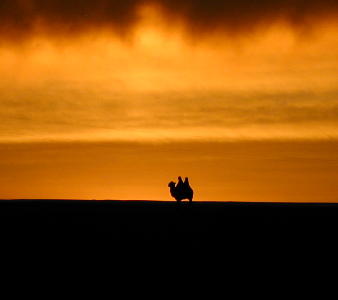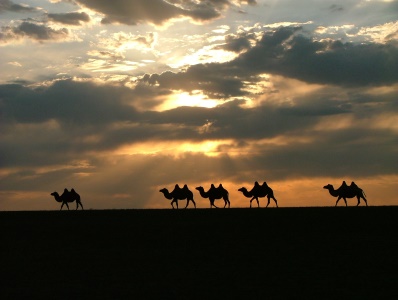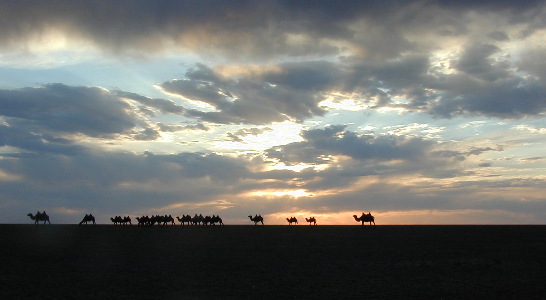 The next morning we got an early start so we would have a chance to see some wildlife as we went through some hills on the way to our next stop.
We were amply rewarded when we caught sight of these ibex.
The Himalayan griffins were totally unexpected.
When we came on an adult and a young antelope our driver decided to try to get closer.
The ensuing chase caused some dismay in our group.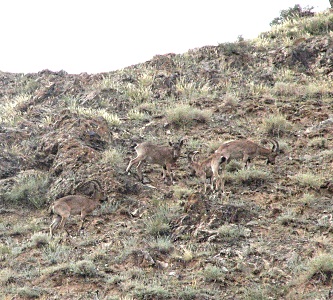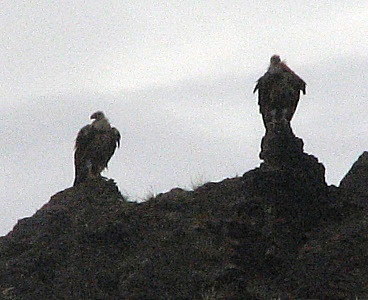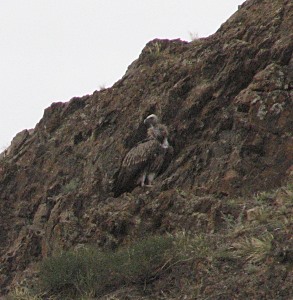 Many thanks to our friends from the trip for sharing their good company, videos, and pictures with us and with you.
Thanks again Alice, Lee, Eleanor, Michael, Joyce, David, Juliana, Tom, Stu, and Tanner.