The Naadam Festival is the major national holiday in Mongolia
We weren't there for the main event, held in early July but we did get to see this mini naadam on our way to camp in the
Kherlan River Valley.
Lots of interesting folks around.
I couldn't understand his words but this old gentleman made clear that he wanted me to take his picture in front of the flag.
That last guy was taking bets on the upcoming horse races.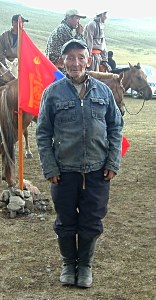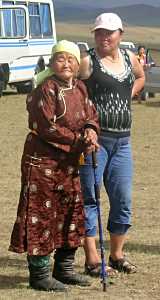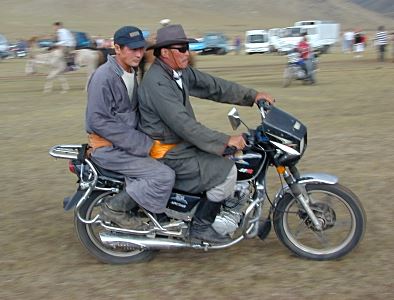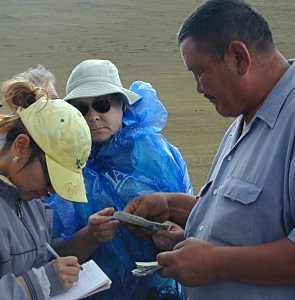 Of course I took the opportunity to get to know some of the kids.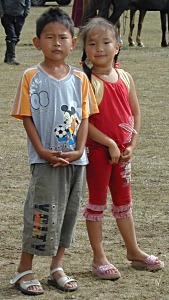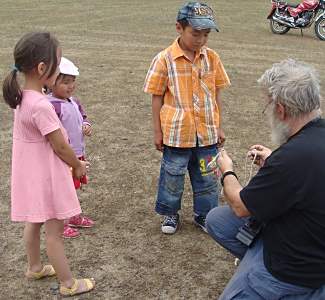 There are three events wrestling, horse racing, and archery.
The target is a row of little baskets 75 meters from the archers not the competitor who is stationed close by to judge the hit and reset the them.
The archers each fire 10 sets of 4 arrows and hit the target nearly all the time.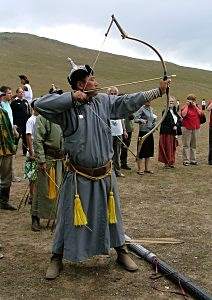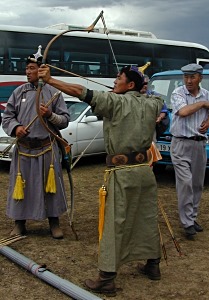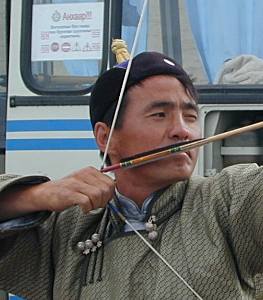 If you have sharp eyes and a sharp monitor you may be able to see an arrow in flight in this picture.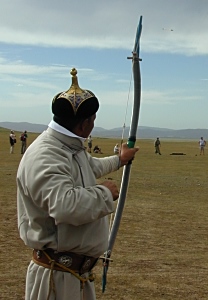 Those of us who wanted to see what it was like got some instruction and then tried our hand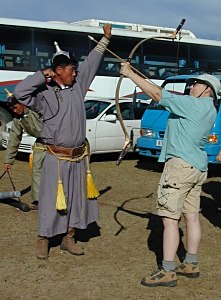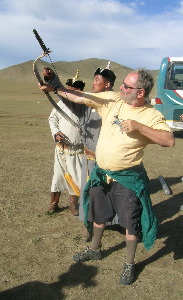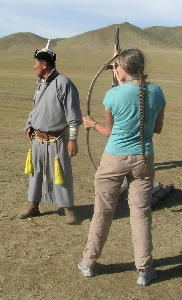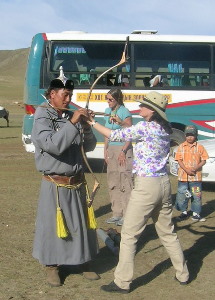 Wrestling is another of the three sports that make up the naadam.
Before his match this first guy pranced around waving his arms.
The competitors would grab each other often by their belt and then try to dump their opponent on his back.
If your shoulders touch the ground even for a moment you lost.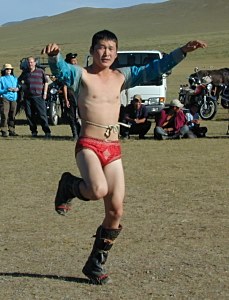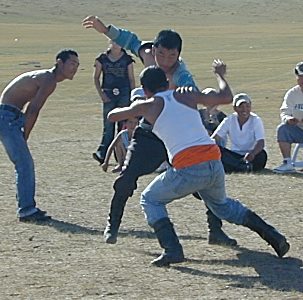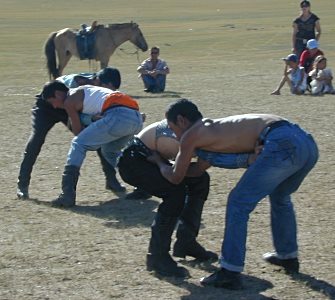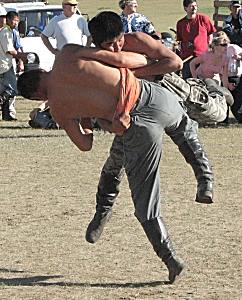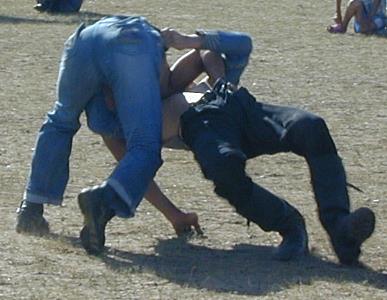 The jockeys ranged in age from 5 to 12.
They ride out to the starting line and then race back 12 kilometers at at full gallop.
Nothing separates the spectators from the horses which can lead to some exciting moments.
One sent me and another photographer diving for safety when it suddenly turned and went between us.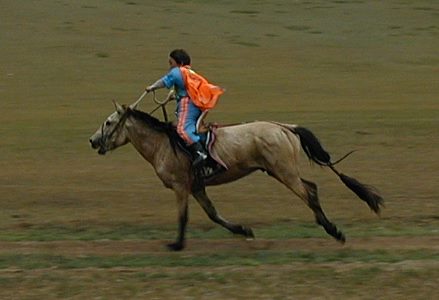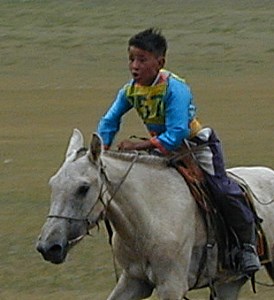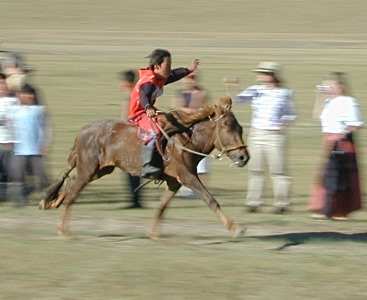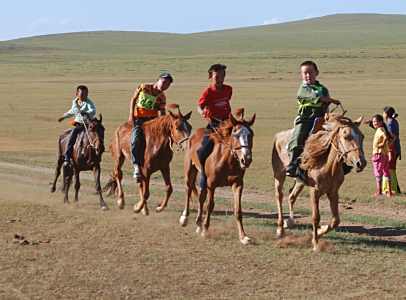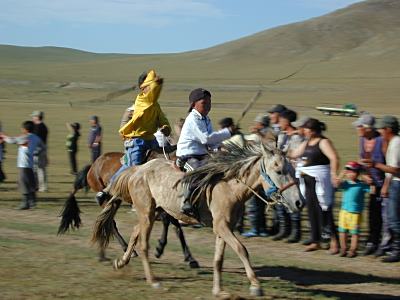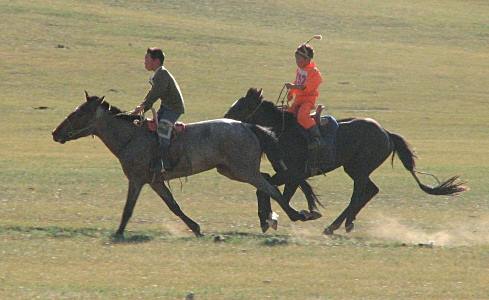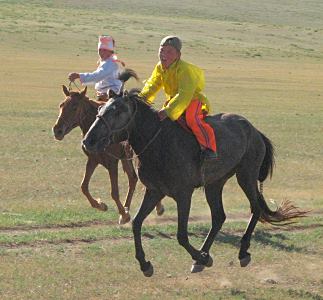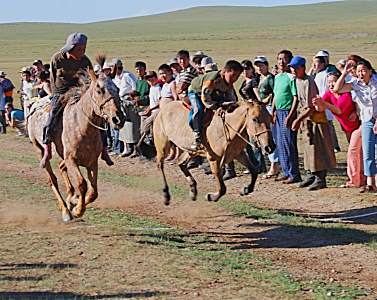 We were worried when this horse returned without it's rider.
Two riders and a truck took off toward where it had come from.
We hope that the rider was OK.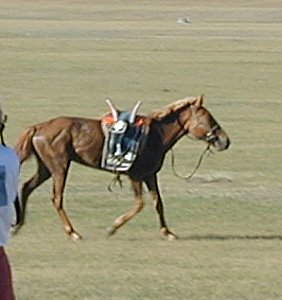 After they finished the race the kids all rode around the flag three times.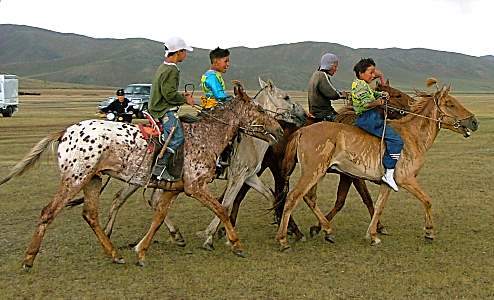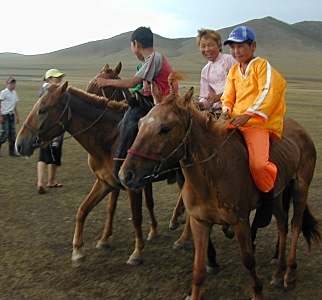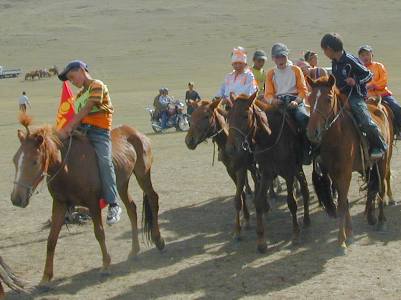 Mares milk, cheese and dried curd were available for anyone who wanted to try them.
I found the cheese and curd not to my taste but the mares milk was good.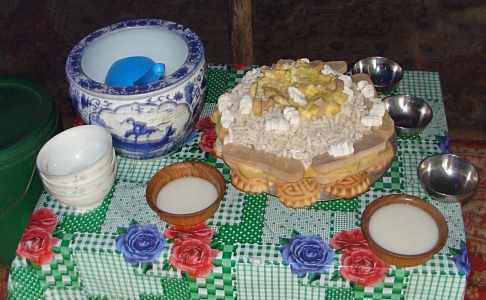 This was the most upscale camp that we stayed at.
We had the chance to try yet another form of transportation, a yak.
It probably was only half yak and half domestic cow if you compare it with other yaks we saw.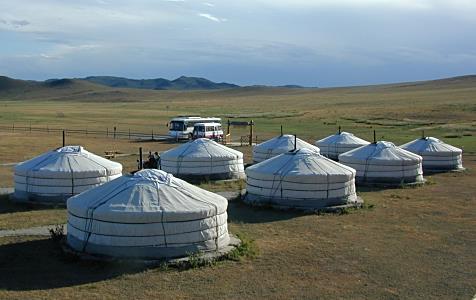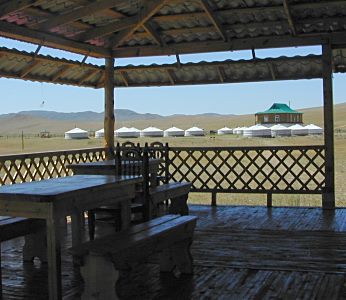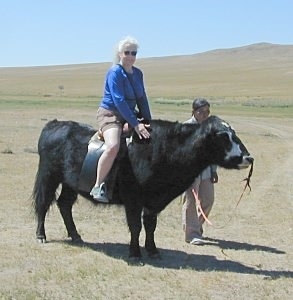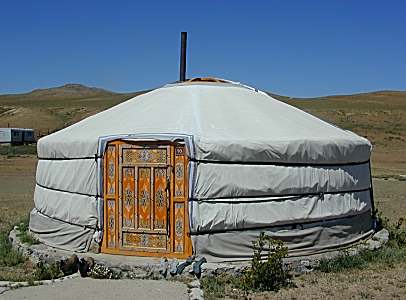 These kids were trying one of the puzzles I got at the International Intellectual Museum.
The younger one managed to get it to work much to the dismay of his older friend.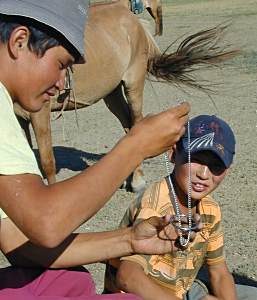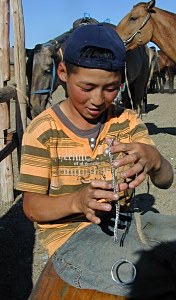 The moon setting over our camp.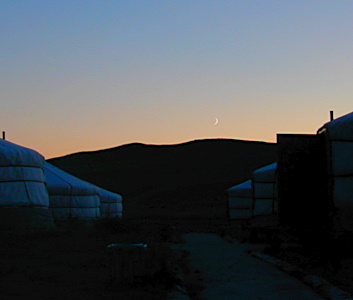 Some of us took the opportunity to fish or just paddle on the Kherlan river.
You can see that Stu was happy with his catch.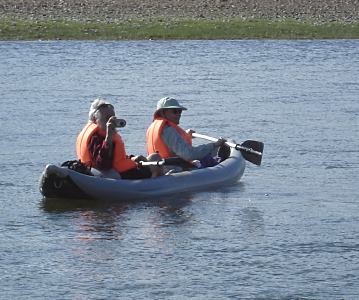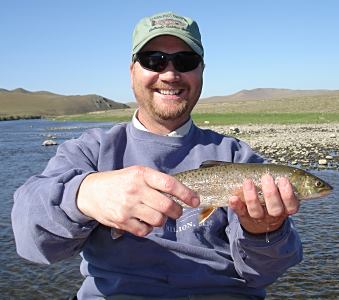 We all rode these steppe horses, barely more than the size of ponies.
For four of our group it was their first time ever on a horse.
The ride wasn't easy, They have a rough gate even when walking.
Some of us were lucky enough to get Russian style saddles, bigger than english but smaller then western tack.
The others had Mongolian style wooden saddles.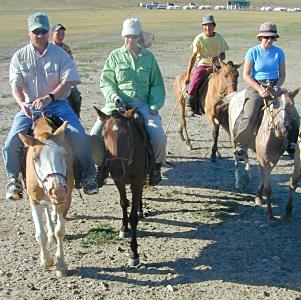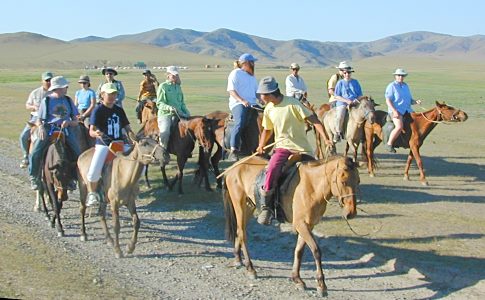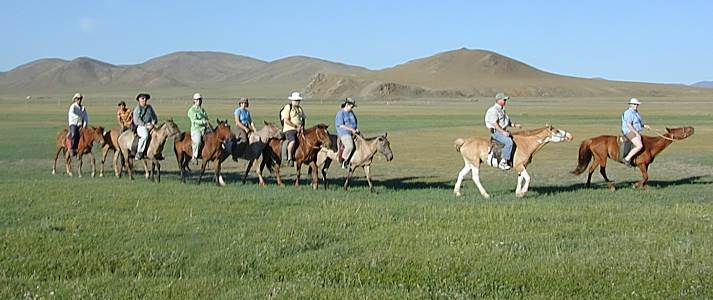 The destination for our ride was this stream where we saw cranes and a family of swans.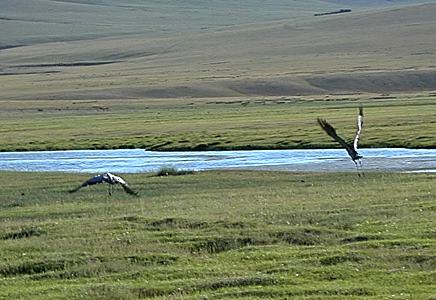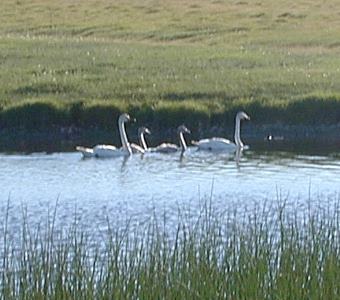 As we were driving along our guide asked us if we would like to visit a family.
We said of course so she told the driver to stop at the next ger.
No one was there so we went to the next, again no one was home.
On the third try we found this family (mother, father, son 16, daughters 13 and 1).
They invited us in and served us a very dry cheese and yogurt.
The yogurt was delicious.
Wish we could get some that was as good here at home.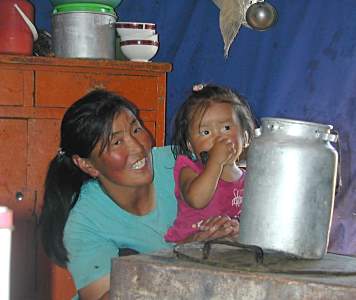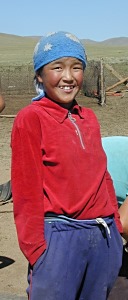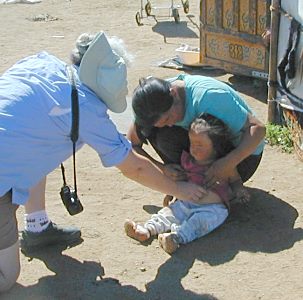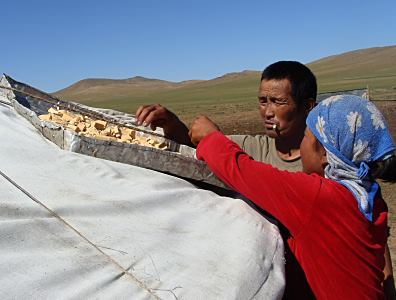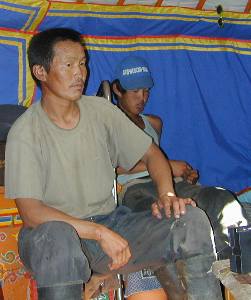 On our drive back to Ulaanbataar we stopped at this sculpture of Genghis Khan still under construction.
Some of us paid a small fee to the workers for the chance to climb to the top of the horses' head.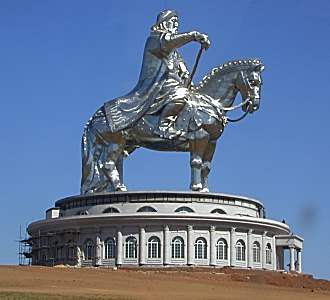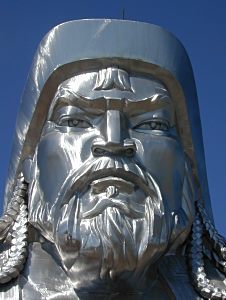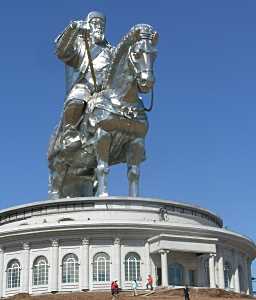 Animals we saw along the way.
A real yak, eagle, and horses that were looking for shade under a railroad trestle and blocking the road we needed to use.